09/15 Ryan's "Update: Sally" Tuesday Night Forecast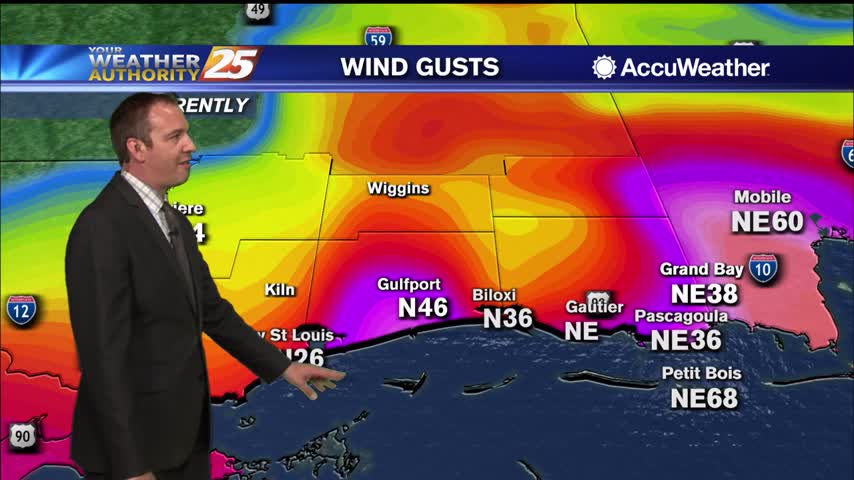 Update: The 10 PM update has pushed Sally's eye path even further east, now almost entirely into Florida! Sally further strengthened into a Category 2 as of 1 AM, and may rise another category before landfall.
South MS's most dangerous issues are now over, but we will see gusty winds, rainy weather, and even hurricane force winds in Jackson County through the night and into tomorrow.
Sally is a bit weaker today, but remains a dangerous and developing situation for the Mississippi Gulf Coast. That's not to say things aren't improving though. As the center of the storm continues to push further eastward, storm surge and rainfall estimates are falling. Yesterday, rain totals for the Pascagoula area were over a foot, but are now just under three inches.
STORM SURGE VALUES HAVE FALLEN FROM 9-11 FEET ON MONDAY AFTERNOON, TO 2-4 FEET IN SOUTH MS.
Hurricane force winds are still possible in extreme eastern South MS, but much of the area won't see any significant weather any more. For example, Pearl River County is no longer under any related watch or warning, and Hancock was downgraded from a Hurricane warning into a tropical storm warning. We still have around 12 hours before landfall, so there can still be some new developments…but this positive trend is likely to continue.