Popp's Ferry bridge to close Thursday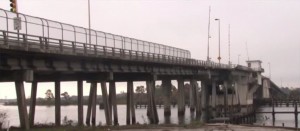 The Popp's Ferry bridge, the two-lane West Biloxi artery used by 20,000 motorists on an average day, will be closed to vehicles Thursday from 9 a.m. to 3 p.m. for repairs.
The closure will allow city contractors to make adjustments to the alignment of the bridge's span so it will open and close without malfunction. Motorists should plan an alternate route, either the Cowan-Lorraine Road bridge in Gulfport or the I-110 highrise over Back Bay.
The problems with the 43-year-old bridge are traced back to July 2020, when it was hit by a tug and barge, said Biloxi Chief Administrative Officer Mike Leonard. The accident caused major damage to the wooden fender system, or dolphins, which are designed to minimize damage from collisions. The fender system was replaced, but a safety inspection indicated that the span locks were having trouble driving and retracting in their respective receivers. When the bridge's locking system does not function properly, the crossbars to stop traffic will not raise.
"The bridge was found to be safe and operational," Leonard said, "but occasionally required assistance due to misalignment. Subsequent to this accident, the frequency of bridge issues has increased, and the city has engaged the firm Huval and Associates of Lafayette, La., to adjust the bridge alignment so that it would open and close without malfunction."
The Popp's Ferry bridge, which provides access from West Biloxi to North Biloxi and from U.S. 90 to I-10, is nearly eight-tenths of a mile long. It was built in 1978 and was transferred from Harrison County to the City of Biloxi some 20 years later. It has a bascule span that has 29.5 feet of clearance for vessels.
Added Leonard: "The city continues its long-term effort to design and build a high, fixed-span bridge at Popp's Ferry."