01/25 – Brantly's "Foggy Start, Then Mostly Cloudy" Monday Morning Forecast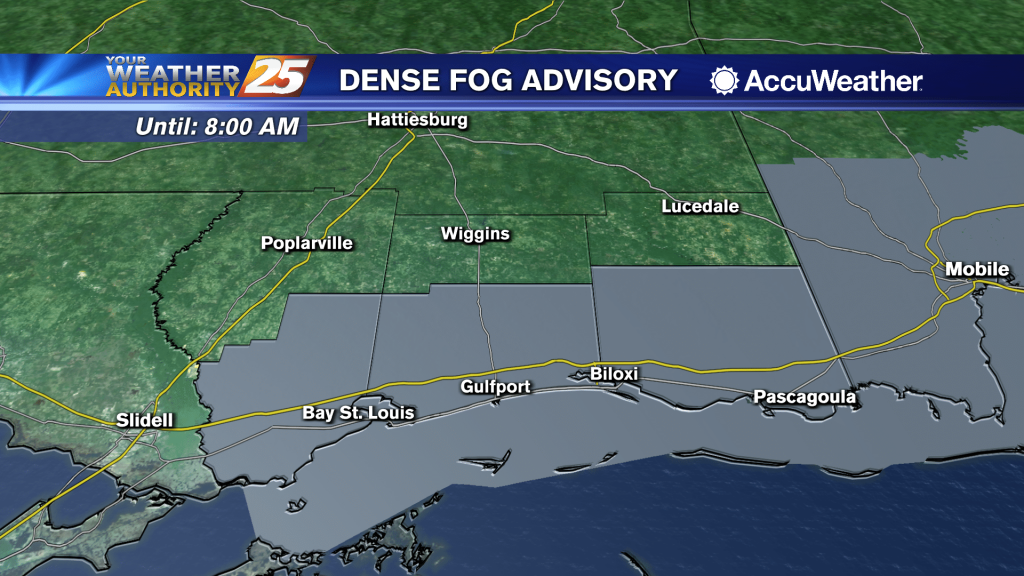 Dense fog will be the headlines for tonight and tomorrow night. Conditions continue to be favorable for sea fog, so the densest fog will likely be over the coastal zones. A Dense Fog Advisory is in effect for Hancock, Harrison, and Jackson Counties. Outside of the areas under the advisory, light patchy fog is still possible. Winds should start to pick up tomorrow morning as a front from the west begins its approach, but a few areas might need the advisory to be extended to mid-morning.
Temperatures will warm up to well above normal for highs. Rain and storm chances will start to increase tomorrow through Wednesday as the front passes through and eventually will stall over the area. With Wednesday's cold frontal passage, temperatures will crash back down with morning lows for Thursday and Friday being in the 30s and 40s. High pressure will start to build in and moderate temperatures through around Saturday approaching around normal for this time of the year. The next chance of rain coming up this weekend will be associated with a shortwave trough digging into Oklahoma and Texas on Saturday then moving into Arkansas on Sunday.