Woman believes Dixie Mafia involved in death of family members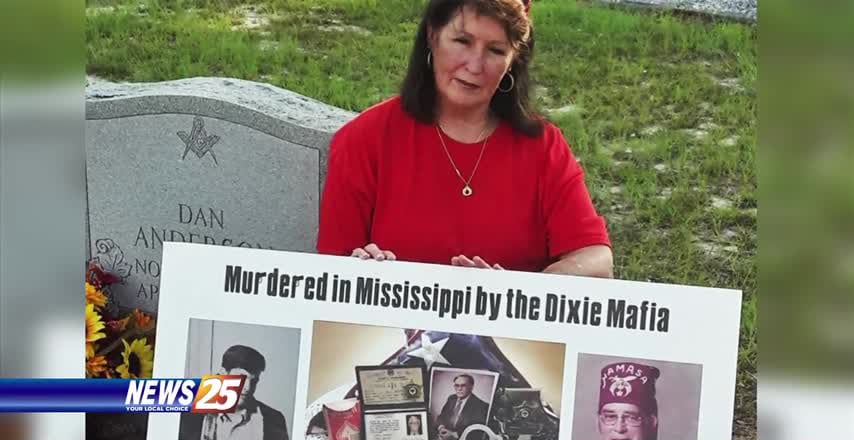 Fifty-two years ago today, Phyllis Anderson-Cook's younger brother Ronnie was allegedly murdered in Gulfport. Initially ruled a suicide, Cook began an investigation into her brother's death, which she believes was a murder at the hands of the Dixie Mafia.
Violence, murder, drugs, money laundering, the Dixie Mafia has operated in organized crime for decades. "They were just a loosely knit bunch of thug guys that got together that robbed, murdered, and killed. Anything that they could for a dollar they did."
Phyllis Anderson-Cook inadvertently became involved with the Dixie Mafia due to her father, Dan Anderson. "He had an alcohol addiction. He was able to break the alcohol addiction, but the gambling addiction he never could. So, it associated him with, I guess you can say, the highest of high and the lowest of low."
Anderson was an officer with the Harrison County Sheriff's Department. However, according to Cook, he was intertwined with members of the Dixie Mafia.
Card games were common at Anderson's home. On the night of August 12th, 1967, Ronnie Anderson, Cook's younger brother, traveled with members of the Dixie Mafia to McNairy County, Tennessee.
On that trip, Pauline Pusser was killed and Buford Pusser was wounded. According to Cook, in an effort to silence her brother, the Dixie Mafia allegedly took action just six weeks later. "He was beaten unmercifully by Kirksey Nix, Earvin Moore, Onus White, Eddie Ray Moore and I don't know how many other ones. They had beaten Ronnie to death and then after they did, Jeffrey Bass, the statement was made that Jeffrey Bass decided to take it one step further and he shot Ronnie in the head."
Initially ruled a suicide by the Harrison County Sheriff's Office, Cook remained skeptical, asking for more information surrounding the death of her 17-year-old brother.
Cook explains that when asking her father, he would tell her to leave it alone and that her constant inquiries would 'get someone else killed.'
The Dixie Mafia continued to be active, including most notably in 1987 when Circuit Court Judge Vincent Sherry and his wife, Councilwoman Margaret Sherry, were murdered in their Biloxi home.
In 1987, Anderson was a lieutenant with the Harrison County Sheriff's Department. According to Cook, Anderson allegedly found the bodies with former Biloxi Mayor Pete Halat.
According to Cook, after being instructed to leave the scene, Anderson was told that he'd receive a call later on that evening. Cook said, "The only call my dad got later on was to keep his mouth shut and never mention that he went to that house with Pete Halat unless he or another one of his kids wanted the same thing."
On Friday, we'll bring you part two of the story as Cook explains how she believes this all played into the eventual murder of her father.