Saints and John Fayard Moving surprise Harrison Central with new football equipment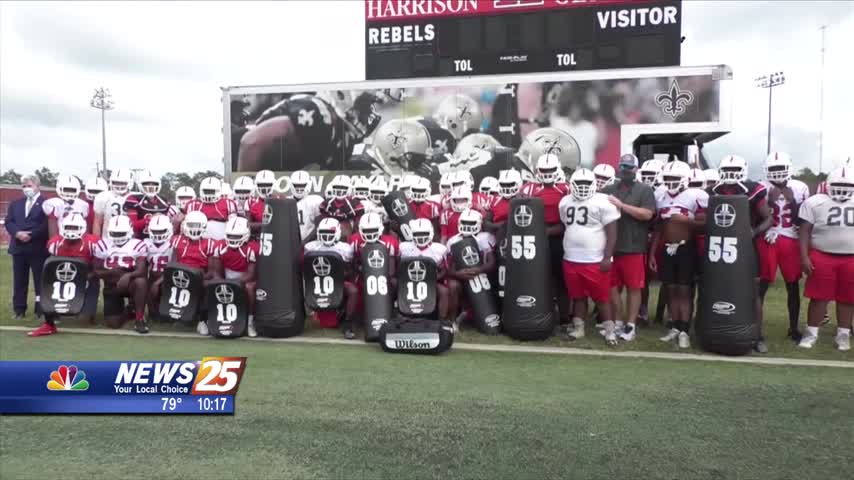 The Saints came marching into Gulfport this afternoon and they came bearing gifts for the Harrison Central football program.
The Harrison Central football program walked out to a big surprise Tuesday afternoon before practice. Brand new sleds, tackling dummies, tackle wheels, and hand shields were laying in the endzone, all donated to the Rebels by the Saints and John Fayard Moving. Harrison Central Head Football Coach Casey Cain said, "Kids see something new, they get excited about trying to use that equipment. It's kinda like Christmas. They want to play with their new toy. And, you know, these kids love football and you can see them out there smiling. They're out there doing drills faster than they've done them all year."
This summer, Gulfport based John Fayard Moving huddled up with the Saints to determine a high school athletic department that was in need of new equipment. Fayard Moving Director of Sales and Operations Tripp Fayard said, "I know these players, especially these seniors– and I think there's somewhere around 25 and 27 seniors on this team– probably had a different feel going into this season to where hey more fans and more family would come to watch them play. And it just kinda helps them feel like they're cared about a little bit more."
Harrison Central Wide Receiver Jacobi Moore said, "We never really got anything like this. We're happy that the Saints helped us out and we going to use it, put it to work."
The 2020 season has turned out to be a breakout season for the Red Rebels. Last year, Harrison Central went 5-6 and finished sixth in region 4. This year, the team sits at 6-1 with just two games left in the regular season and the Rebels have their eyes on a deep playoff run. "They're a tight-knit group. I mean, just standing over here with them while we were kinda taking photographs after we gave them the equipment, they were cutting up and having a good time. And you can tell that they're a little bit extra motivated this year," said Fayard.
Moore said, "We're winning the championship. We're going all in."
Harrison Central Wide Receiver Daveontay McDonald said, "When is it though? Ain't it in December? See y'all in December."