Ole Miss, patient advocacy group partner to gather data on medical cannabis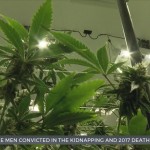 A new partnership has been announced to study the effectiveness of cannabis products on the market.
The Mississippi cannabis Patients Alliance, the University of Mississippi and the Releaf App are joining forces to collect data on medical cannabis.
A press conference to announce the partnership is planned for 9:30 a.m. in Jackson.
The research program will help the industry, regulators, practitioners and patients by providing evidence of what products may work best for certain conditions.
Patients can record their experiences in an app that will allow for data collection on purchases, use and patient-reported outcomes.
The app does not record patient identification data. The information will be uploaded to Ole Miss scientists for research on the products.
Angie Calhoun, Founder and CEO of the Mississippi Cannabis Patients Alliance, said "This agreement represents a significant step forward via a proprietary system that only patients in Mississippi can use. The University of Mississippi, Releaf App, and MCPA are offering a safe and effective platform for patients to report their results in a way that will assist future patients, while gaining valuable knowledge for themselves, and providing the industry and researchers with information about medical cannabis use, outcomes and so much more."