Mississippi Dept. of Health reports 2,168 new cases of COVID-19 as of Thursday morning
(WXXV) — The Mississippi State Department of Health is reporting an additional 2,168 cases of COVID-19 in Mississippi and 28 deaths as of Thursday morning.
27 deaths occurred between November 26 and December 2, and one occurred November 19, identified from death certificate reports.
Two of the new deaths reported occurred in South Mississippi — one in Hancock County and one in Pearl River County.
In the southernmost six counties of Mississippi, the numbers of COVID-19 cases were as follows:
George — 1,317 (22 new)
Hancock — 1,309 (33 new)
Harrison — 7,555 (158 new)
Jackson — 6,708 (53 new)
Pearl River — 1,638 (49 new)
Stone — 831 (11 new)
Mississippi's total of COVID-19 cases for the year now stands at 159,036, with 3,879 deaths.
Among cases and deaths already reported, MSDH has identified 57 new cases in residents of long-term care facilities, and 11 deaths. There are currently 188 ongoing outbreaks of COVID-19 in long-term care facilities.
128, 746 people in Mississippi are presumed to have recovered from COVID-19.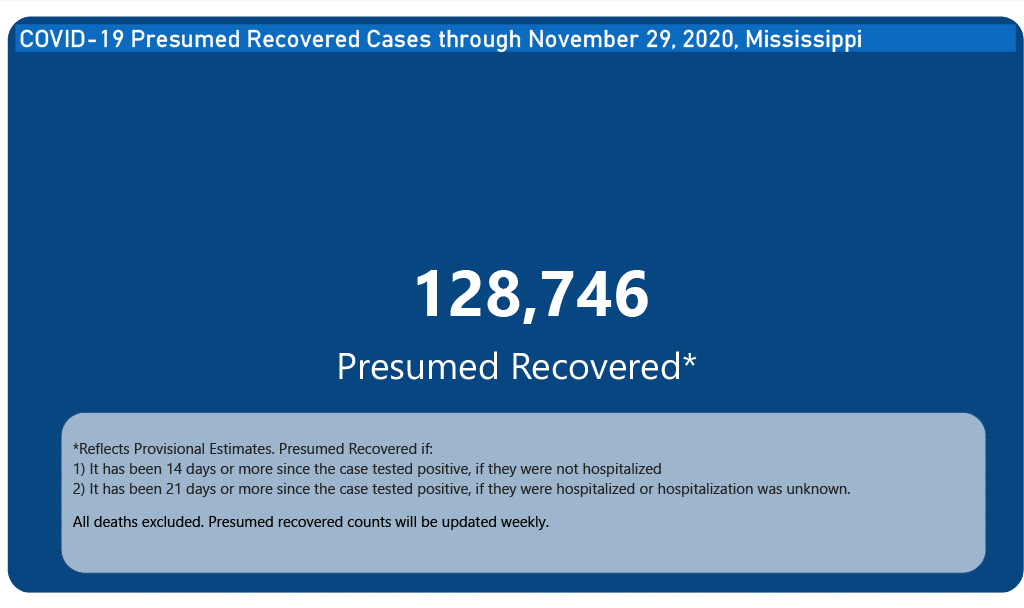 MSDH said in a post to Facebook on Thursday, "Social gatherings at home and away from home are rapidly driving Mississippi's COVID-19 cases upward. The State Health Officer advises all residents of Mississippi to avoid any social gathering that includes individuals outside of the immediate family or household, except for work, school or other absolutely essential activities in order to relieve the pressure on hospitals and save lives."