Harrison Co. Searching for Hit & Run Suspect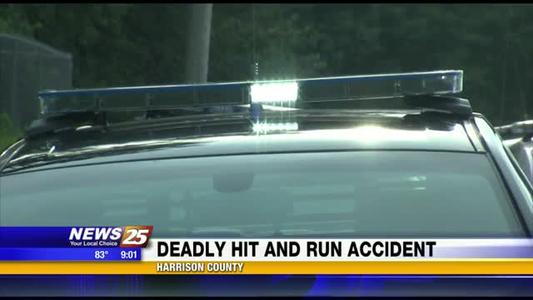 Harrison County deputies are now in the fifth hour of the search for the suspect in a deadly car accident. It happened near Wolf River Road and Landon Road.
Deputies have named 27 year old, Joshua Ladner, as the suspect. They say he fled the scene of the deadly wreck, then took authorities on a high speed chase before bailing out of the car. Officials say Ladner was driving a pickup truck, towing a second truck, being steered by 34 year old, Melissa Ladner, who lost control of her vehicle, causing it to flip over several times. She died at the scene.
When deputies arrived, they tell us Joshua Ladner fled and there began the high speed chase that ended on Mennonite Road. That's where Ladner crashed his car and ran into the nearby woods.
Harrison County Sheriff, Melvin Brisolara, says, "We're trying to get all of that cleared up. Why he was actually fleeing, we don't know. We are going to do a background on him, if he has been arrested before, if he is wanted for anything, to cause him to flee the scene." Police are using search dogs and a helicopter to find him.
*Update (Aug. 29, 2014): On August 29th, 2014, Harrison County Sheriff, Melvin T. Brisolara, released information relative to the arrest of 27 year old, Joshua Emmanual Ladner, who resides at 9172 Firetower Rd. Pass Christian, MS on the charges of Felony Leaving the scene of an accident causing death and Felony Fleeing.
Sheriff Brisolara advised that on August 28th, 2014, deputies responded to a reported traffic accident involving a fatality on Wolf River Road near Jake Bell Road in Gulfport, where deputies observed a white male (late identified as Joshua Ladner) flee the scene where the victim, identified as Melissa Jane Ladner, was deceased at the accident scene. Deputies initiated a vehicle pursuit with Ladner until he exited the truck he was driving and fled on foot off of Mennonite Road near Highway 53. A manhunt was conducted and Ladner was able to elude authorities during the night. On August 29th, 2014, at approximately 10:45 a.m., deputies and Investigators went to Ladner's last known address of 9172 Firetower Rd. in Pass Christian looking for Ladner. Upon the deputies' arrival, Ladner ran from the rear of the residence into a wooded area, where a K9 dog apprehended him. Ladner was treated for minor injuries sustained during the arrest and transported to the Harrison County Adult Detention Facility for the booking process.
Sheriff Brisolara stated that Ladner was booked into the Harrison County Adult Detention Facility on a $150,000 bond set by Judge Brandon Ladner, pending his initial appearance.