Four arrested after protesters breach Gulfport City Hall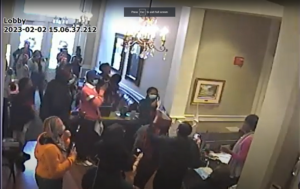 Four people were arrested this afternoon after protestors breached the Gulfport City Hall.
Supporters of Jaheim McMillan held a protest outside of City Hall when a group of 20 people entered the building at 3:03 p.m.
During this time, the group crossed several breaching points including one leading to the mayor's door while aiming cell phones in that direction.
Officers arrived at the scene around 3:11 where confrontation between them and the protesters began ultimately leading to the arrest of three on charges of disturbing the peace.
A fourth person was arrested as well for assault after one officer was allegedly hit by a bullhorn.
Gulfport Police Chief Adam Cooper says the weapons brought by his officers were loaded with rubber bullets and never fired.
More arrests are expected to be made soon. Mayor Billy Hewes said, "I'm under the belief that this whole protest, this well riot if you will, was orchestrated. I believe the folks who have been doing protesting have not gotten the traction that they wanted and I believe that they were looking for a confrontation, and they got one today."
Mayor Hewes tells News 25 they are hoping the video of Jaheim is made public and available by the end of the month.
News 25 will provide more information as it becomes available.