Evacuation recommended at marinas, harbors in Biloxi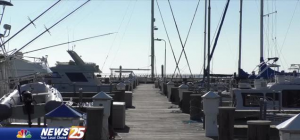 The Biloxi Port Division today "highly recommended" to boat owners that they relocate their vessels from the city's public harbors and marinas.
"We are currently monitoring the weather," the email said, "but although evacuation is not mandatory at this time, it is highly recommended that vessels be relocated well in advance to safer locations in order to protect both the vessel and the marina." A follow-up e-mail is planned before 11 a.m. Friday.
Driving the announcement is the forecast for Tropical Storm Ida, which is forecast to approach the northern Gulf Coast at or near major hurricane intensity on Sunday.
Port Division Manager Larry Sablich issued the recommendation to the 350 or so boat owners who have vessels at the Biloxi Small Craft Harbor and adjoining Commercial Harbor, Point Cadet Marina and the Sherman V. Canaan Dock on Back Bay.
Boaters were reminded that public harbors in Biloxi will shut down when a Hurricane or Tropical Storm Warning is issued or 24 hours before expected landfall.
Added the notice: "Please remember the bridges between the sound and the bays close early depending on wind speed. If you are relocating your vessel to points north of those bridges, please pay special attention to the advisories from the state, county, and cities regarding the bridges."