Biloxi man sentenced for part in Capitol riots on Jan. 6, 2021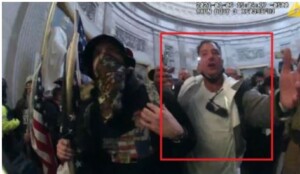 A Biloxi man will serve more than six years in prison for assaulting law enforcement officers during the attack on the U.S. Capitol on Jan. 6, 2021.
The U.S. Attorney's Office in Washington, D.C. said 40-year-old James McGrew of Biloxi and Carlsbad, California, pleaded guilty on May 13, 2022 to assaulting, resisting or impeding officers.
He was arrested on May 28, 2021, in Glendale, Arizona. He was sentenced today. In addition to the prison term of 78 months, McGrew also will serve three years probation and will pay a $5,000 fine and $2,000 in restitution.
Before his arrest in the Capitol riot case, McGrew had at least 10 arrests by agencies in Harrison County on charges ranging from shoplifting and motor vehicle left to various drug charges.
Court documents say McGrew had a series of confrontations with law enforcement during the Capitol riot and is seen on video shouting "let's go" about 14 times.
McGrew entered the Capitol at 2:45 and moved to the Rotunda, where officers were attempting to clear rioters out of the building. At approximately 3:05 p.m., he pushed one officer and struck another officer who was standing before him. Two minutes later, another officer used his baton to push McGrew and others closer to the exit. McGrew struck the officer and lunged for the officer's baton. He then engaged in an altercation with yet another officer. Officers eventually pushed McGrew and others out of the Rotunda, and he exited the building at 3:22 p.m.
About 45 minutes later, however, McGrew joined in an attack against officers attempting to secure the Lower West Terrace tunnel entrance to the building. At approximately 4:13 p.m., another rioter in the crowd handed McGrew a wooden handrail with metal brackets attached, almost the same height as McGrew.
McGrew positioned the handrail over his head and launched it into the tunnel, throwing the end with the metal brackets towards the law enforcement officers. The handrail appeared to hit the shield or visor of an officer. McGrew then joined in more pushing, gaining access into the tunnel area until being pushed out by officers at approximately 4:20 p.m.