12/08 – Brantly's "Foggy" Sunday Night Forecast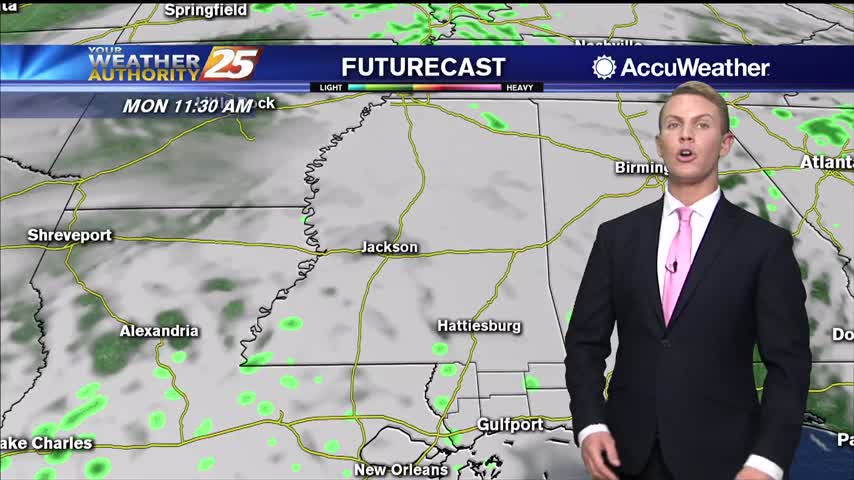 An upper level low is currently making its way over the southeastern United States and will continue to progress over the east coast by tomorrow morning. At the surface, a stalled front is currently hanging over the northern Gulf Coast through north-central Florida and off the east coast into the Atlantic. This has led to some light shower activity along the coast extending inland, with some heavier showers over the Gulf waters earlier this evening. Since this afternoon, these showers have moved inland and tapered off.
Temperatures through tomorrow will run above the seasonal norms for this time of year. Low temperatures overnight into early tomorrow morning will be in the lower 50s for inland areas and in the mid to upper 50s for the coastal portion of South Mississippi. High temperatures tomorrow will be a bit warmer than they were today, with temperatures reaching the lower to mid 70s area-wide due to southerly wind flow bringing in warmer, moist air up from the Gulf.
The latest computer models have suggested the possibility of dense fog development overnight into early tomorrow morning, particularly for areas along and just north of the I-10 corridor and southward to the coast. We've already started to see some fog forming and locally dense fog will continue possible through the mid morning hours. A Dense Fog Advisory is in effect for the Mississippi Sound until at least 6:00 a.m.
Even after the fog burns off, skies will continue to remain overcast through the day tomorrow. Rain chances stay low for Monday, but go up to around 70 to 80 percent on Tuesday. Some of that rain will likely linger into Wednesday morning as well, so we will keep rain chances at around 50 percent for Wednesday too.
Eventually, a cold front will push through and rain will clear out, but skies will remain generally mostly cloudy through the middle of the week. Temperatures will drop about 20 degrees Tuesday into Wednesday. By Wednesday, highs will be in the mid 50s with overnight lows dropping into the lower to mid 40s. By the end of the week, we should warm up to around normal for this time of the year with daytime highs in the lower to mid 60s and lows in the 40s.