06/09 – Brantly's "Warm and Humid" Wednesday Morning Forecast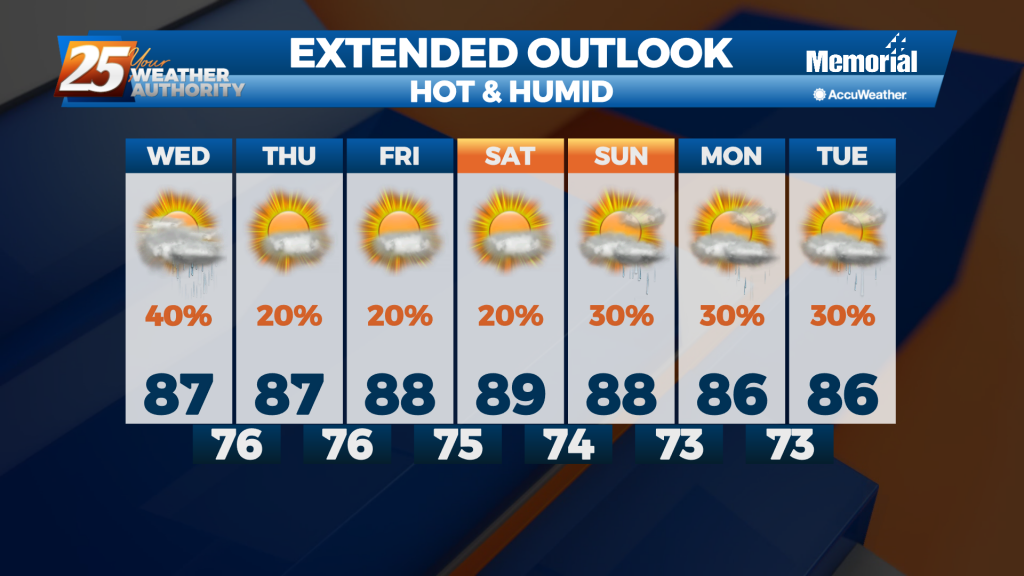 Highs over the next few days will generally be in the mid to upper 80s. Overnight lows will range from the low to mid 70s inland with mid to upper 70s along the coast. The high pressure system over the southeastern United States shifts into the Gulf of Mexico by Thursday evening, causing winds to shift from southerly to southwesterly and eventually westerly by the end of the period. A tropical warm, moist air mass — typical for this time of year — will continue to sit over the forecast area. Isolated to scattered showers and thunderstorms can be expected each afternoon.
Heading into the weekend, some models are hinting at another round of wet weather moving into the area late Saturday afternoon into Sunday. The best shot for rain will be over the weekend with chances increasing to 40-50% by Sunday afternoon. As we head into early next week, expect more of a summertime pattern with scattered showers and storms each day.
Temperatures remain toasty through early next week. Highs are forecast to top out in the low 90s each afternoon, a few spots might top out in the mid 90s, with mid to upper 80s at the beaches due to the sea breeze. Overnight lows only dip into the low 70s inland with mid to upper 70s at the beaches. Heat stress concerns are possible this weekend as heat indices may creep into the 100- 105 range.