Zeale Boutique in Ocean Springs catches fire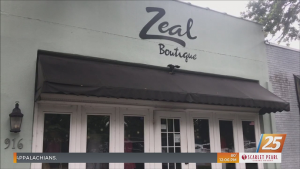 A downtown Ocean Springs boutique suffered a devastating loss Thursday.
Zeal Boutique caught fire last night after the store closed when no one was inside the business. No injuries were reported.
Zeal Boutique, located on Washington Avenue, is only one of the boutique's locations on the Coast.
A statement from Zeal Boutique on Facebook reads: "For those of you who don't know, our Ocean Springs location caught fire today. This was devastating news that no one wants to hear about their small business. Thank you to everyone who has reached out. We can never express our love and gratitude. We are so thankful no one was hurt and things can be replaced. To the firefighters and cops, y'all are amazing and deserve all the credit in the world."