Wind Advisory in effect from 8am until 6 pm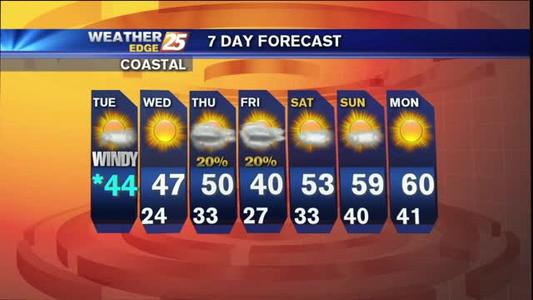 Today: Clearing morning sky with a high temperature in the upper 50s, quickly dropping throughout the day to a cold 44º. Wind speeds from the north/northwest will increase to the 20-30 mph zone with higher gusts. The strongest wind speeds should arrive/continue between 10 am and 4 pm.
Tonight: Clear sky with a north wind 5-15 mph. Temperatures will drop below freezing and remain near the 27º mark for most locations. A Hard Freeze Warning will take effect from midnight tonight through 8 am or longer tomorrow morning.
Wednesday: Sunny and dry with a light breeze around the 5 mph zone. Colder temperatures with a high near 47º and a low near 33º.
Thursday: Clouds on the increase ahead of another cold front with a high temperature near 50º. Wind speeds will increase later and continue during the overnight hours. This next cold front will reinforce our chilly temperatures and another Hard Freeze Warning will be possible into Friday morning. Low temperatures are expected to reach 27º for most. A slight chance of rain showers Thursday night and Friday morning also exists.
Friday: Mostly cloudy early and clearing later. High temp near 40º with a low temp near 33º.
This Weekend: Mostly clear and dry conditions with temperature highs increasing from the low 50s to the upper 50s. Low temperatures will also feel better with near 40º readings into the start of next week.