Vehicle believed to be involved in shooting at Scarlet Pearl found burned in Alabama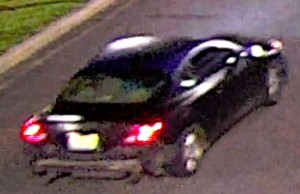 D'Iberville Police have confirmed that the vehicle law enforcement was looking for in relation to a shooting at Scarlet Pearl on Wednesday morning has been found.
Chief Shannon Nobles said police in Prichard, Alabama, found the Nissan Altima early Thursday morning at the Azalea Court Apartments on Commercial Avenue.
The vehicle was destroyed by fire.
Police had released photos from video at the Scarlet Pearl Casino of the vehicle after 36-year-old Nicholaus Craig was found shot to death in his rental car.
He was parked in a parking lot across the street from Scarlet Pearl Casino, where he and his girlfriend were staying to celebrate his birthday. They had planned to go to Mobile later that day to visit Craig's family during his trip home from California.
Police are still looking for two suspects in the shooting case. Video from a Circle K at the Ocean Springs exit on Interstate 10 show a man and a woman at the convenience store.
Anyone with information is asked to call D'Iberville Police at 228-396-4252 or Mississippi Coast Crime Stoppers at 877-787-5898.