Two die in overnight fire at William Bell Apartments in Gulfport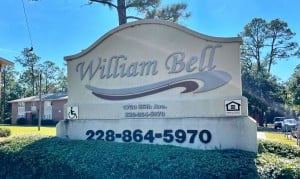 Two children are dead as a result of an overnight fire at William Bell Apartments in Gulfport.
Harrison County Coroner Brian Switzer confirmed the deaths. He identified the children as 6-year-old Vashun Viverette, who died at Memorial Hospital at Gulfport. The cause of death was smoke inhalation. The other child was 4-day-old Kakashi Aubrey, who also died of smoke inhalation. He was taken to Singing River Gulfport and died about 5:30 a.m.
Switzer said Kakashi's paternal grandmother was at the hospital. She told Switzer her first time to hold her grandson was after the newborn had died.
Fire Chief Billy Kelley said the fire, which started in the kitchen. The 911 call went out at 3:16 a.m.
Kelley said in addition to the victims who died, a 2-year-old is critical and was flown to New Orleans for treatment. A 4-year-old is stable. The mother also is critical and the father is stable after the fire.
Two other men who tired to help during the fire are in stable condition, one with a broken ankle. William Bell Apartments is located in the Gaston Point community of Gulfport.
Kelley said there were smoke detectors in the apartment but he is unsure whether they were working.
WXXV will continue to update this story as more information becomes available.