Three charged with sex trafficking of a minor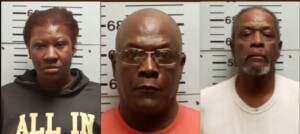 Three people were charged last week with trafficking of a minor.
39-year-old Frances Dawson of Jackson was arrested on May 1 at the CPS office, charged with two counts of procuring sexual servitude of a minor. Her bond was set at $50,000. She has since bonded out of jail. The incidents occurred in 2018 and 2019.
72-year-old Bennie Cosby of Warren County was arrested May 5 and his brother, 67-year-old Hyman Cosby of Vicksburg, was arrested May 10. Both were arrested at home and are each charged with two counts of sexual battery of a child under 14. Their bonds were $500,000 each. Both were still in the Warren County jail today.
According to The Vicksburg Post, Warren County Sheriff Martin Pace said his office was contacted by Child Protective Services last month about a child who was trafficked for sex by an adult female.
Pace said during the investigation, Dawson was identified as the woman who made a child available to adult males for sex.