Statue in front of Miner's in Ocean Springs is missing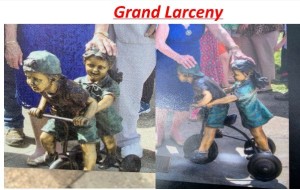 A mainstay in downtown Ocean Springs has gone missing.
The statue of two children on a tricycle — an 90th birthday present to John and Maryalice Miner that sat in front of their store, Miner's Doll and Toy Store on Washington Avenue, was stolen earlier this week.
The statue was taken some time between Monday evening and Tuesday morning.
Ocean Springs Police are asking anyone who knows what happened to the statue to call the station at 228-875-2211 or Mississippi Coast Crime Stoppers at 877-787-5898.