State reports third day of at least 3,000 cases of COVID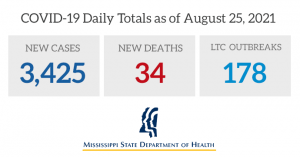 Today MSDH is reporting an additional 3,425 cases of COVID-19 in Mississippi and 34 deaths.
There were 27 deaths between August 11 and August 25. Of those deaths, 5 were from Jackson County, 2 from Harrison and 1 from Pearl River County.
There were 7 deaths that occurred between August 8 and August 20, identified from death certificate reports.
Mississippi's total of COVID-19 cases is now 423,599, with 8,214 deaths.
Among cases and deaths already reported, MSDH has identified 9 additional COVID-19 cases in residents of long-term care facilities, and one additional death. Ongoing outbreaks of COVID-19 in long-term care facilities have decreased to 178.
Vaccination against COVID-19 is free, safe and greatly reduces the risk of hospitalization and death. You can be vaccinated at any of our free sites, or at hundreds of providers statewide. Find vaccination information and locate one near you at
https://msdh.ms.gov/c19vaccination
Mississippi has a 38% vaccination rate across the state, well under the national average of 52%. Mississippians 65 or older have the highest vaccination rate at 72%, but it's still below the national average for that age range which is 81%.
If you are homebound, get help with COVID-19 vaccination by emailing COVIDHomebound@msdh.ms.gov, or call 877-978-6453.
Booster vaccinations are now available through county health departments for those who qualify. More information at
https://msdh.ms.gov/boosters
To host a local vaccination event at your business or organization, send a request to VaccineEvent@msdh.ms.gov
To get help with a vaccination appointment, or any COVID-19 related questions, call the Mississippi COVID-19 Hotline at 877-978-6453 from 7 a.m. to 7 p.m., seven days a week.
Monoclonal antibody (mAb) treatment for those with COVID-19 is available through providers statewide. See
https://msdh.ms.gov/getmab