St. Stanislaus alum Myles Brennan on brink of national title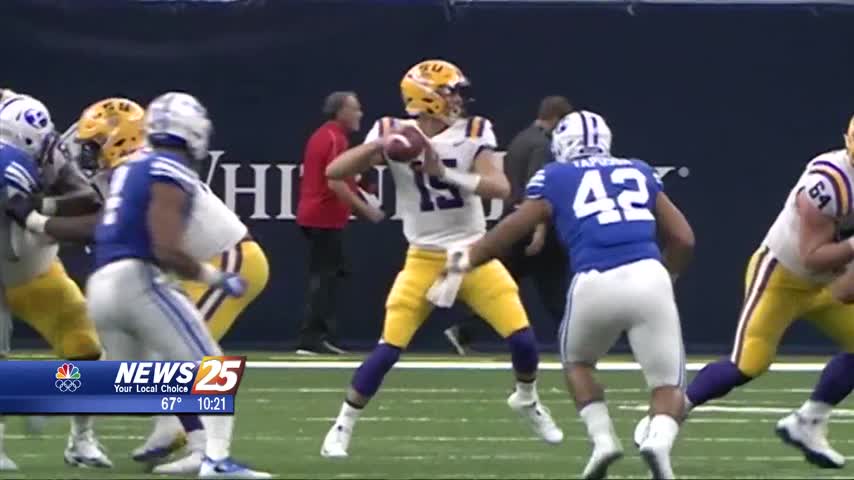 Waiting in the wings behind LSU's Heisman Trophy winning Quarterback Joe Burrow is St. Stanislaus alum Myles Brennan who is looking to become just the fourth-ever Rock-a-Chaw to win a college football national championship by the end of the night.
Win or lose against Clemson, what a moment for Mississippi's all-time leader in passing yards and touchdowns, twice coming just one win away from a 4A state championship.
Now just one win away from a legacy even greater as one of just three players from the Magnolia State in this year's national title game and the only one from the Gulf Coast. Brennan, a redshirt sophomore, was a four-star recruit coming out of his high school and has done nothing but impress ever since his arrival in Baton Rouge in 2017.
One year later, he pushed Burrow to the brink for the starting job under center, perhaps even helping the Heisman Trophy winner achieve his college football immortality.
So, while it's all eyes on Burrow and the Tigers, Brennan is hardly a forgotten man in the equation especially in Bay St. Louis. St. Stanislaus Head Football Coach Nate Encrapera said, "We're excited for him. We're really happy that he's getting this opportunity and with the work ethic that he had when he was here and it's hard being a back-up sometimes, you want to push that guy that's in front of you, which going into the spring and summer ball and stuff he did. I know he competed well because that's just the kind of guy that he is. But he works so hard that if he does get that opportunity to play tonight, he's going to be ready to play."
St. Stanislaus O-line Coach Jeff Jordan said, "Well, it's a great, great opportunity for Myles and his future to tutor under Joe Burrow and Joe Brady and Coach Orgeron, and what an experience it's got to be for him to be able to experience this and hopefully have a chance next year to take the reins and do similar things. I think it's a great opportunity for him. It's great exposure for St. Stanislaus."
With a win tonight, Brennan would join the likes of Stephen Peterman who also won a national title with LSU in 2003 as well as Heisman Trophy winner Doc Blanchard, class of 1942, and Marchie Schwartz, class of 1927.