South Mississippi has no new reported COVID-19 deaths
South Mississippi saw only 1 new case of COVID-19 reported on Thursday and no deaths, the Department of Health reported.
The state reported 209 new cases in the state and 9 deaths from COVID-19 for June 4.
The state now has a total of 16,769 cases and 803 deaths because of the virus.
The Health Department also reported that as of May 31, there were 11,203 cases presumed to have recovered from the virus.
The county totals are:
George — 30 (1 new)
Hancock — 90 (0 new)
Harrison — 268 (0 new)
Jackson — 314 (0 new)
Pearl River — 212 (0 new)
Stone — 32 (0 new)
Hinds County, which as the most reported cases in the state, has 1,104 as of June 4.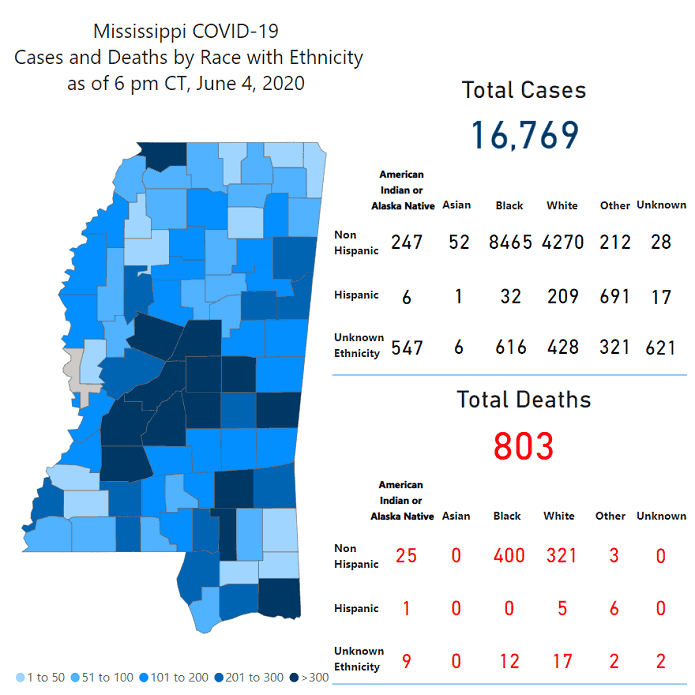 Cases and Deaths by County
Totals of all reported cases since March 11, including those in long-term care (LTC) facilities.
Note: Cases in residential care facilities are no longer included in long-term care facility totals. This will cause some LTC numbers to be slightly lower today than yesterday.
| | | | | |
| --- | --- | --- | --- | --- |
| County | Total Cases | Total Deaths | Total LTC Facility Cases | Total LTC Facility Deaths |
| Adams | 204 | 16 | 42 | 9 |
| Alcorn | 19 | 1 | 0 | 0 |
| Amite | 65 | 1 | 12 | 1 |
| Attala | 312 | 18 | 87 | 15 |
| Benton | 14 | 0 | 1 | 0 |
| Bolivar | 169 | 11 | 16 | 4 |
| Calhoun | 68 | 4 | 23 | 4 |
| Carroll | 119 | 11 | 45 | 9 |
| Chickasaw | 143 | 14 | 34 | 9 |
| Choctaw | 52 | 2 | 0 | 0 |
| Claiborne | 116 | 5 | 41 | 4 |
| Clarke | 156 | 19 | 17 | 8 |
| Clay | 125 | 4 | 0 | 0 |
| Coahoma | 132 | 4 | 0 | 0 |
| Copiah | 334 | 4 | 0 | 0 |
| Covington | 183 | 2 | 1 | 0 |
| Desoto | 593 | 10 | 17 | 4 |
| Forrest | 600 | 39 | 92 | 28 |
| Franklin | 29 | 2 | 3 | 1 |
| George | 30 | 2 | 1 | 0 |
| Greene | 30 | 1 | 13 | 0 |
| Grenada | 110 | 4 | 15 | 2 |
| Hancock | 90 | 12 | 8 | 3 |
| Harrison | 268 | 7 | 3 | 2 |
| Hinds | 1104 | 26 | 79 | 13 |
| Holmes | 444 | 31 | 84 | 15 |
| Humphreys | 64 | 7 | 16 | 5 |
| Issaquena | 0 | 0 | 0 | 0 |
| Itawamba | 89 | 7 | 33 | 6 |
| Jackson | 314 | 15 | 38 | 5 |
| Jasper | 168 | 4 | 0 | 0 |
| Jefferson | 42 | 1 | 0 | 0 |
| Jefferson Davis | 82 | 3 | 4 | 1 |
| Jones | 709 | 33 | 104 | 20 |
| Kemper | 156 | 11 | 32 | 7 |
| Lafayette | 156 | 4 | 39 | 1 |
| Lamar | 252 | 5 | 3 | 2 |
| Lauderdale | 765 | 69 | 174 | 45 |
| Lawrence | 107 | 1 | 0 | 0 |
| Leake | 455 | 12 | 2 | 0 |
| Lee | 197 | 8 | 21 | 2 |
| Leflore | 282 | 38 | 91 | 22 |
| Lincoln | 281 | 31 | 91 | 23 |
| Lowndes | 252 | 9 | 19 | 5 |
| Madison | 778 | 29 | 99 | 15 |
| Marion | 116 | 9 | 15 | 2 |
| Marshall | 89 | 3 | 0 | 0 |
| Monroe | 269 | 25 | 91 | 22 |
| Montgomery | 84 | 1 | 0 | 0 |
| Neshoba | 739 | 45 | 70 | 22 |
| Newton | 292 | 4 | 4 | 0 |
| Noxubee | 195 | 6 | 15 | 3 |
| Oktibbeha | 283 | 14 | 86 | 11 |
| Panola | 87 | 3 | 0 | 0 |
| Pearl River | 212 | 31 | 46 | 11 |
| Perry | 51 | 3 | 0 | 0 |
| Pike | 204 | 11 | 14 | 6 |
| Pontotoc | 49 | 3 | 3 | 1 |
| Prentiss | 53 | 3 | 21 | 3 |
| Quitman | 32 | 0 | 0 | 0 |
| Rankin | 463 | 9 | 6 | 0 |
| Scott | 663 | 12 | 13 | 2 |
| Sharkey | 7 | 0 | 0 | 0 |
| Simpson | 105 | 0 | 4 | 0 |
| Smith | 156 | 11 | 43 | 8 |
| Stone | 32 | 0 | 0 | 0 |
| Sunflower | 96 | 3 | 0 | 0 |
| Tallahatchie | 31 | 1 | 0 | 0 |
| Tate | 93 | 1 | 2 | 0 |
| Tippah | 76 | 11 | 0 | 0 |
| Tishomingo | 36 | 0 | 1 | 0 |
| Tunica | 58 | 3 | 12 | 2 |
| Union | 89 | 7 | 18 | 6 |
| Walthall | 67 | 0 | 0 | 0 |
| Warren | 199 | 10 | 37 | 7 |
| Washington | 199 | 8 | 7 | 1 |
| Wayne | 280 | 3 | 1 | 0 |
| Webster | 88 | 5 | 18 | 3 |
| Wilkinson | 85 | 9 | 5 | 2 |
| Winston | 124 | 1 | 0 | 0 |
| Yalobusha | 111 | 6 | 26 | 6 |
| Yazoo | 298 | 5 | 11 | 2 |
| Total | 16,769 | 803 | 1,969 | 410 |