Sand bags available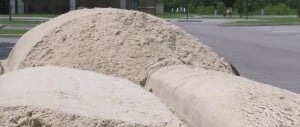 With the potential tropical system moving into our area over the next few days, sand bag locations are popping up across the Coast.
They will be placing sand, bags, and shovels at the following locations:
Orange Grove Community Center
The Fire Station on 42nd Avenue
The intersection of Hewes Avenue and Glover Street
Residents will need to fill up their own bags, but staff will be available at these sites from 8 a.m. to 5 p.m. for the remainder of the week as needed and as conditions allow.
In Long Beach, self-service sandbags are now located at the following places:
The Long Beach Harbor East Parking Lot
Harrison County Work Center on North Seal Avenue
Long Beach Girls Softball Field on Klondyke Road
Everyone is asked to bring their own shovel.
In Jackson County, Sand bag locations are at the following places:
In Moss Point at New Central Fire Station
In Ocean Springs at Public Works Department at 712 A Pine Drive
In Gautier behind City Hall on Highway 90
In Pascagoula at the Jackson County Fairgrounds
West Division Roads Department in Ocean Springs
Fontainebleau Fire Department in Ocean Springs
Forts Lake Fire Department in Moss Point
East Division Roads Department in Moss Point
Central Division Roads Department in Vancleave
Andrews Fire Department in Ocean Springs
Old Americus Road Fire Department in Lucedale
More sand bag stations and locations throughout the area are in the process of opening up.