Quite the Show: On the Fringes of Sally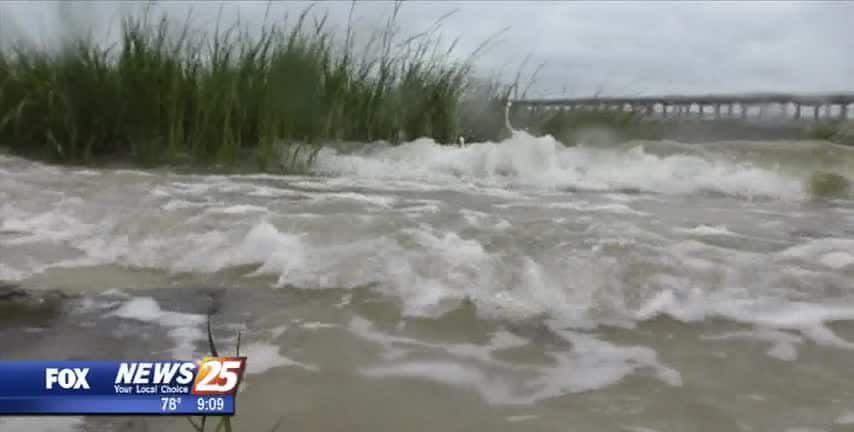 A number of people were suffering cabin fever, thankful the storm bypassed us here in South Mississippi for the most part, but still curious about how Sally was looking on the outer fringes of the storm in Biloxi.
5 p.m. Tuesday and like most women, Sally was taking her time before her arrival, making landfall, but she made her presence known at the Palace Casino and Resort on Back Bay in East Biloxi where she entertained quite a few spectators including Gulfport resident Kendrick Freeman and his family. "A lot of wind. It looks like it wants to rain. That's all it's doing right now, though, is drizzling.  I'm kind of disappointed. I thought it was going to be a little bit more to it-come out, be hanging from the poles, swinging in the wind. None of that. They say there is more coming tomorrow, but I guess we'll see."
Sally wasn't the only headliner whose name started with an 'S' at the show. D'Iberville resident Landon Sapat said, "We basically drove up and there was just a snake in my tire now."
D'Iberville resident Dequarious Johnson said, "I named him Samuel. What's up Samuel. Should I grab him?"
And a few people even found time to connect. "Actually, she was kind of worse than a teenage girl on her first drunk, just wondering around, stop looking at me! I'm just going to stay over here. (Do you think she'll sober up at some point?) "I don't know. I think she's good where she is."
It was relatively quiet on casino row in Biloxi Tuesday evening after South Mississippi casinos in Harrison County shut down on Monday afternoon. The flashing signs at the Beau Rivage and the Hard Rock Casino say it all closed due to Sally, but in true Hard Rock style, Sally did ride off to the east with all of us here in South Mississippi giving collectively a sigh of relief.