President Joe Biden visits Rolling Fork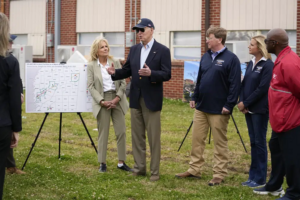 ROLLING FORK, Miss. (AP) — President Joe Biden saw for himself the flattened homes, broken furniture, and children's toys left behind by last week's deadly tornado in Mississippi and vowed that the federal government is "not leaving" until the area is back on its feet.
The president arrived in the Delta community as a new series of severe storms threatens to rip across the Midwest and the South.
Last week's twister destroyed roughly 300 homes and businesses in Rolling Fork, and the nearby town of Silver City, leaving mounds of lumber, bricks and twisted metal. Hundreds of additional structures were badly damaged. The death toll in Mississippi stands at 21, based on those confirmed by coroners. One person died in Alabama, as well.
From Marine One, as they flew from Jackson to the area hardest hit by last week's storm, the president and first lady Jill Biden got a view of the devastation across acres of farmland — destroyed homes, toppled trees and piles of debris.
"This is tough stuff," Biden said as he was greeted by state, local and federal officials after arriving in Rolling Fork. "The most important thing is we got to let people know the reason for them to have hope, especially those who have lost somebody."
The White House said ahead of his arrival that Biden will announce that the federal government will cover the total cost of the state's emergency measures for the next 30 days, including overtime for first responders and debris cleanup. He's also expected to announce the Federal Emergency Management Agency will open disaster recovery centers in storm ravaged counties to help residents access the resources available to them.
The Bidens also met with residents impacted by the storms and first responders, and received an operational briefing from federal and state officials. They were joined by Gov. Tate Reeves, Sen. Cindy Hyde-Smith and Rep. Bennie Thompson.