One arrested, one suspect still wanted in connection to fatal shooting in Gulfport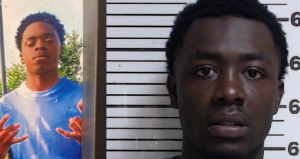 On May 18, 2022, at approximately 6:11 p.m., the Gulfport Police Department responded to the 3300 block of 39th Avenue in reference to a shooting.
Upon arrival, officers located a male victim suffering from multiple gunshot wounds.
Through the course of the investigation, Detectives discovered the victim and the suspects, later identified as Andrew Terrell Dunnigan and Jamichael Tyron Naylor, had gotten into a previous physical altercation which later turned deadly after Dunnigan and Naylor discharged firearms multiple times and struck the victim.
Dunnigan and Naylor fled the scene prior to the officers' arrival. The victim was transported to a local area hospital where he later succumbed to his injuries.
Dunnigan is currently wanted and has an active warrant for 1st Degree Murder with no bond.
Dunnigan is described as a 16-year-old black male with black hair and brown eyes. Dunnigan should be considered armed and dangerous.
Naylor has been arrested.
Anyone with any information regarding this incident is urged to contact the Gulfport Police Department at 228-868-5959 or Mississippi Coast Crime Stoppers at 877-787-5898.