UPDATE: Ocean Springs makes arrest in deadly shooting at The Scratch Kitchen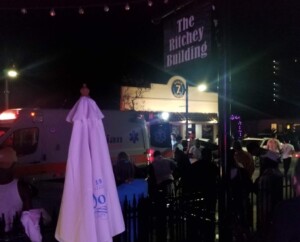 Ocean Springs Police have made an arrest in the Friday night shooting at The Scratch Kitchen on Government Street that left six people wounded and another person dead.
Ocean Springs Police Chief Mark Dunston has confirmed that the OSPD has a suspect in custody.
"At this time the identity of the suspect will not be released as the investigation continues," said Dunston.
"Detectives are continuing to conduct interviews and do not want details to taint any forthcoming
information."
The dead victim has been identified as 19-year-old Chase Harmon of Pascagoula.
The rest of the wounded victims were taken to area hospitals for treatment.
This is the second mass shooting in six days. Four people were wounded and another two killed at a post-prom party in Bay St. Louis last Saturday night.
According to our media partner, the Sun Herald, Harmon was attending a Cinco de Mayo party on the patio of the restaurant. Another patron tried to give him CPR after he was shot.
Ocean Springs said in an early-morning press release that no suspects have been identified and the investigation was ongoing.
They did release a photo of a person police want to question in connection with the shooting and asked that anyone with information to call Ocean Springs Police at 228-875-2211 or contact Mississippi Coast Crime Stoppers.
Crime Stoppers is offering a $2,500 reward for information leading to an arrest.