Murder suspect shoots himself in Moss Point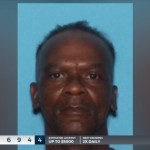 A man wanted on attempted murder charges has died after shooting himself in Moss Point over the weekend.
51 year old Johnny Lee Nichols –was wanted by the Marion County Sheriff's Office for attempted murder in a recent stabbing case.
According to Moss Point Police Chief Brandon Ashley, Nichols called the police department on Saturday afternoon wanting to turn himself into police.
When officers met Nichols at Second Street Park, he had a gun.
Officers tried to talk Nichols into giving up the gun, but he turned it on himself.
He was taken to Singing River Hospital, where he later died from his injuries.
The Jackson County Sheriff's Office and the District Attorney's office are assisting in the investigation.