Mississippi Aquarium, Mississippi Gulf Coast Community College partner on successful Mardi Gras bead recycling program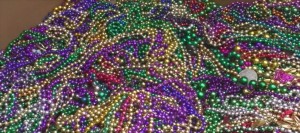 GULFPORT, MS — Mississippi Aquarium, in a partnership with Mississippi Gulf Coast Community College, is sending more than 10,000 pounds of Mardi Gras beads and plastic trinkets to be recycled at the Arc of Greater New Orleans (ArcGNO).
The bead drive started in mid-February and ran through the end of March.
"The drive was a huge success for the community," Mississippi Aquarium Public Relations and Communications Manager Jeff Clark said. "The support we received was overwhelming. Our friends at the Beau Rivage Resort and Casino donated more than 500 pounds of beads to the drive. Mississippi Gulf Coast Community College donated thousands and thousands of pounds of beads, and they are transporting the beads to New Orleans. The staff at MGCCC went out of their way to help us with this important conservation program. They helped keep toxic plastics from getting into our waterways and threatening our marine life."
Jeffrey Siegel, Instructor at MGCCC's Harrison County Campus, who was instrumental in partnering with the Aquarium, said the college has participated in bead recycling programs for years. "MGCCC has been collecting beads for a decade to keep them out of the environment," Siegel said. "We donated them to Gulf Coast Industries, where they were recycled. Gulf Coast Industries got out of the 'Throw-M-Again' program during COVID and Mississippi Aquarium coincidentally has become involved with a similar 'Throw-M-Again' program in New Orleans. It keeps all those beads out of landfills and out of the environment while giving them new life and supporting a worthy cause."
Once the beads are delivered to New Orleans, they will be recycled and repurposed by adults with intellectual disabilities at the ArcGNO.
"The Mardi Gras Recycle Center (MGRC) is one of three social enterprises managed by Arc of Greater New Orleans, which is a non-profit agency established in 1953 by parents of children with intellectual disabilities and delays (IDD), such as Down syndrome and autism," MGRC Manager Sherrana McGee said. "ArcGNO serves almost 600 individuals and families in Jefferson, Orleans, Plaquemines, St. Bernard, and St. Tammany parishes."