MEMA ANNOUNCES SUPPLY DISTRIBUTION SITES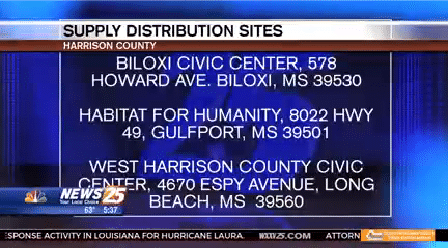 With continued power outages, five distribution centers will open in Hancock and Harrison Counties.
Distribution Center Operating Hours:    
SATURDAY, October 31:   1 PM – 6 PM
November 1-2, 2020:        8 AM – 6 PM
Shelf-stable meals, water, tarps, hand sanitizer and masks will be available at these locations:
Hancock County:
Hancock County Arena 4184 Kiln Delisle Rd. Kiln, MS
Longfellow Farmers Market 3068 Longfellow Drive Bay St. Louis, MS
Harrison County:
East Harrison County: Biloxi Civic Center, 578 Howard Ave. Biloxi, MS 39530
Center-North Harrison County: Habitat for Humanity, 8022 Hwy 49, Gulfport, MS 39501
West Harrison County: West Harrison County Civic Center, 4670 Espy Avenue, Long Beach, MS  39560
FEMA is providing an estimated 210,000 meals, 30,000 tarps and an estimated 290,000 bottles of water through Mississippi's Emergency Measures Declaration. MEMA is in contact with county EMA directors and assessing the needs of other impacted counties. MEMA stands ready to assist.