Man wanted in connection with D'Iberville shooting charged with aggravated assault
Kendall Jackson turned himself in at the D'Iberville Police Department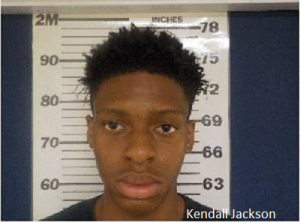 Kendall Jackson turned himself in at the D'Iberville Police Department. He will be transported to the Harrison County Adult Detention Center and booked on a bond of $200,000 set by Judge Fountain for the Aggravated Assault.
Captain Marty Griffin said at approximately 4:30 P.M Tuesday, June 8th, officers responded to the 600 block of Dina Drive for a reported shooting. Officers located two individuals on the south side of the residence with gunshot wounds. Initial responding officers observed a vehicle leaving the area and was able to stop it and detain the passengers.
The other individual, 17 year old Dominick Keewin Grindle, from Biloxi,  was arrested on the charge of Aggravated Assault. Dominick Grindle was charged as an adult with two counts of Aggravated Assault and a bond set at $400,000.00 by Harrison County Justice Court Judge Albert Fountain. Grindle was booked into the Harrison County Adult Detention Center pending an Initial Appearance.