Kelly, Palazzo, Guest Introduce Resolution Honoring Ole Miss Baseball Team For NCAA Championship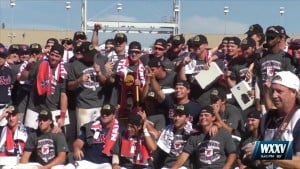 Washington, DC – U.S. Representative Trent Kelly (R-Miss.), U.S. Representative Michael Guest (R-Miss.), and U.S. Representative Steven Palazzo (R-Miss.) have introduced a resolution in the U.S. House of Representatives to recognize the University of Mississippi baseball team for winning the 2022 National Collegiate Athletic Association (NCAA) Men's College World Series at Charles Schwab Field in Omaha, Nebraska.
On June 26, 2022, the team became the first in school history to win the Division I championship.
"Congratulations to the University of Mississippi baseball team for their hard work and dedication," Rep. Kelly said. "Generations of young people will be inspired by their success on the diamond."
"The Ole Miss Rebels made our state proud with a display of incredible talent and sportsmanship on the diamond as they fought to be national champions. These young men earned this title and I commend them on an incredible performance that will be remembered for many years to come," Rep. Guest said. "Congratulations to the Ole Miss Rebels, Coach Bianco, and everyone who worked to create a championship team."
"The University of Mississippi baseball team's win in Omaha is a win for all of Mississippi," Rep. Palazzo said. "Congratulations to the entire team and to all those who helped them reach this tremendous achievement. First it was Mississippi State, now it's Ole Miss, next it'll be Southern Miss's turn to bring home the World Series trophy!"
The resolution commends the University of Mississippi baseball team, which under the leadership of Head Coach Mike Bianco displayed outstanding dedication, teamwork, and sportsmanship throughout the 2021-2022 season. Additionally, the resolution recognizes the team for bringing great pride and honor to the University of Mississippi, their loyal fans, and to all the citizens of the great State of Mississippi