Jones County woman pleads not guilty to cruelty charges in Carl's death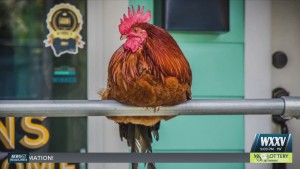 The woman accused of kidnapping and killing Carl the rooster entered a not guilty plea on Monday in Ocean Springs.
Kendra Shaffer, 35, entered the plea through her attorney, Thomas V. Alonso of Lafayette, Louisiana.
Shaffer originally was scheduled for court at 8 a.m. Wednesday. Ocean Springs Police Chief Mark Dunston said Shaffer simply entered the plea early.
She is scheduled for trial at 8 a.m. August 29, to answer charges of misdemeanor animal cruelty.
The former Jones County juvenile corrections officer was not in court when the plea was entered. She lost her job with Jones County after she was charged in the case.
A security video taken by a nearby business shows a woman believed to be Shaffer and several men are seen walking down Government Street on April 24. She is seen picking Carl up from his roost at Twisted Anchor Tattoo and Gallery and continuing down the street.
A second security video shows what is believed to be Carl's body being dumped.
Shaffer has not cooperated with law enforcement to identify the other people in the video.