Jackson County: Residents asked to put Hurricane Zeta debris roadside by Dec. 5th
JACKSON COUNTY, Miss. (WXXV) — Jackson County's debris removal contractor has 17 trucks currently working in neighborhoods throughout the County. They intend to add additional trucks after Thanksgiving to get the rest of the Hurricane Zeta debris picked up as soon as possible.
To make the process more efficient, residents are asked to please put their debris out to the roadside no later than December 5. Your efforts will help the contractor to determine how much debris remains and how much longer it will take to pick up. It will also save time and resources by allowing them to concentrate on specific areas and prevent unnecessary backtracking at a later date.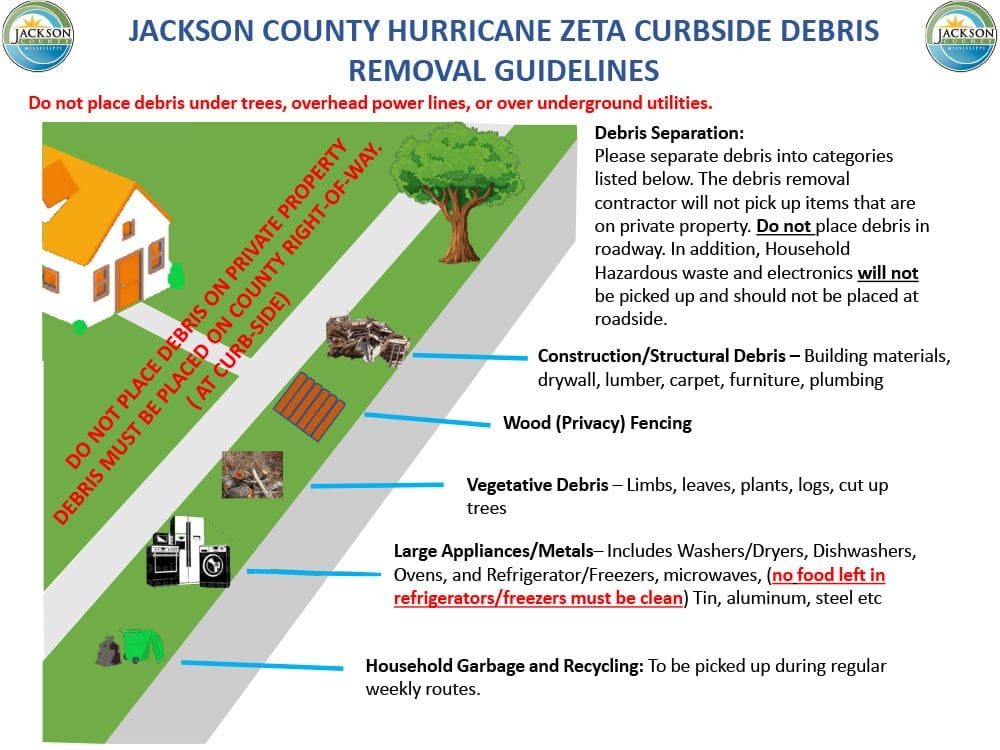 Due to the uncertainty of volume in each area, we are not able to confirm when the contractor will be in a specific neighborhood at this time, however they will continue to make their way through all areas of unincorporated Jackson County.
To date, about half of the current estimated 150,000 cubic yards of debris has been picked up since the contractor began on November 9. Initially the focus was given to areas that were hardest hit and considered emergencies such as school bus turn arounds, trees blocking roadways, and the removal of 6,730 hanging limbs and 351 leaning trees.
Debris should be placed curbside, in right-of-way area, without blocking the roadway or storm drains. Items should be separated in piles or containers based on the following type of materials:
1. Vegetative Debris: tree branches, leaves, logs, plants
2. Construction Debris: Building materials, drywall, lumber, carpet, furniture, plumbing
3. Wood (Privacy) Fencing
4. Large Appliances/Metal: Refrigerator, washer/dryer, air conditioner, stove, water heater, dishwasher, tin, aluminum, steel, etc.
* Do not leave appliance doors unsealed or unsecured
* Remove all food from appliances
1. Household garbage, recycling, and bagged items:
* These items will be picked up during regular weekly schedules.
The contractor will not pick up the following:
* Debris under or leaning against overhead power poles and lines, trees, or other structures
If there is no other option, a smaller truck may have to be used to pick-up these materials at a later date
* Debris on top of underground utilities, fire hydrants, meters, etc.
* Debris placed in plastic bags (should be placed with household garbage)
* Debris on private property
* Household hazardous waste
* Electronics (e-waste)
Information Courtesy Jackson County, MS