Hyena baby born at Hattiesburg Zoo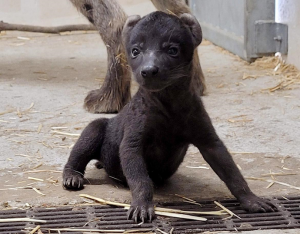 HATTIESBURG, Miss. (AP) – Just a year after her arrival at the Hattiesburg Zoo, spotted hyena Pili has given birth to what is believed the only surviving hyena cub born in North America so far this year.
Zoo curator Kristen Moore said they're encouraged by the cub's birth and feel that Pili is on her way to being a great mom.
According to the zoo, hyenas usually have litters of two to four cubs, but about 60% of them do not survive. Moore said this week that Pili is nursing the baby.
A blood sample will be taken in 2 to 4 weeks to determine the sex of the cub, which was born Oct. 17.
Officials said they are looking at naming options now, but will wait until after they have determined the cub's sex before picking one.