HWY 49 railroad crossings between I-10 and Creosote Road to close for repairs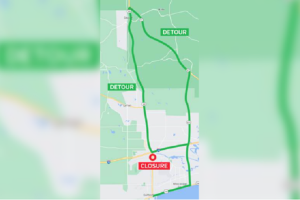 The railroad crossing on U.S. 49 between I-10 and Creosote Road in Harrison County will undergo a series of closures starting Sunday, Oct. 23 at 10 p.m. while Kansas City Southern replaces the railroad crossing.
Beginning Oct. 23 at 10 p.m., the northbound lanes of U.S. 49 near the railroad crossing will be closed for up to 7 days, immediately followed by the closure of the southbound lanes for up to 5 days, followed by a final closure of both lanes for up to 2 days. When the southbound lanes of U.S. 49 are closed, I-10 exit ramps for U.S. 49 southbound (Exit 34A) will be closed.
Work is expected to be completed by Saturday, Nov. 5. Detour signs are in place for local traffic. Other traffic can take SR 605 to I-10 or SR 67 back to U.S. 49 or vice versa. Roads will be open as soon as Kansas City Southern completes the crossing replacement.
Click here to view a map of the area so you can find the best route that works for you during the construction.