Harrison Central Softball: Melina Seiferd signs with Hinds Community College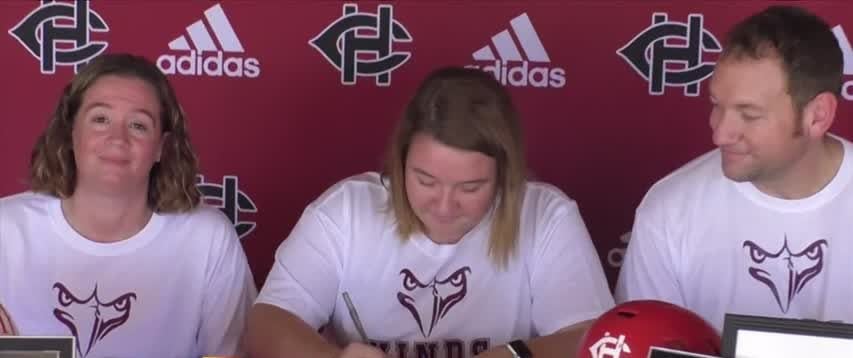 For the second day in a row, Harrison Central High School is home to a softball signing day ceremony.
This afternoon, Melina Seiferd signed a national letter of intent with Hinds Community College in front of family, friends, teammates, and coaches.
The senior Red Rebelette can handle the bat and hold her own in the circle as a career .323 hitter at the corner infield spots and a pitcher with a 10-pitch max.
The right hander says it is more about spin than speed and she's happy to have a home where she can maximize her strengths. "At first, it really did shock me that I was going to the next level. But I've always wanted to go to the next level for softball. I've always wanted to play collegiately for softball. And there's really no words to explain how happy I am and all that stuff to actually be able to go and they actually gave me the opportunity to play where I wanted to play."
Harrison Central Head Softball Coach Jimmy Parker said, "The colleges now – the pitching – they've started trying to diversify their staffs and not just have all 60+ miles per hour pitchers. They've found out over the last few years that it helps to have that off-speed pitcher. And when she pitches, she holds people down. I mean she keeps the ball low, a lot of good spin on it and they see that and she's a good addition to most any staff."
Seiferd has a career ERA of 0.93.