Governor Reeves touts tax cuts, teacher pay raise, jobs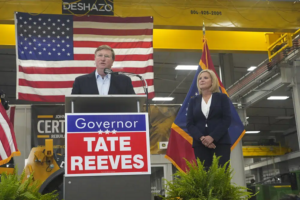 RICHLAND, Miss. (AP) — Mississippi Gov. Tate Reeves told supporters at one of his first large-scale campaign events Wednesday that he has fulfilled promises to cut taxes, increase teacher pay and promote job development.
The Republican said Mississippi, with 3 million residents, is competing against larger states partly because he did not impose heavy restrictions on businesses during the COVID-19 pandemic.
"I have a message to those governors in New York and California and Illinois," Reeves said, mentioning three states led by Democrats. "Mississippi is coming to take your jobs. And we have no intention of ever giving them back."
His remark drew cheers from more than 200 supporters at a construction equipment dealership in the Jackson suburb of Richland. Reeves held a smaller campaign event Tuesday on the Gulf Coast, where he had a strong showing in the 2019 election.
Reeves, 48, is seeking a second term as governor. He previously served two terms as lieutenant governor and two as state treasurer. Early in his career, he was a financial portfolio manager.