Four Ocean Springs schools participate in National Walk to School Day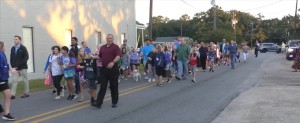 Four schools in Ocean Springs participated in today's 'National Walk to School Day.' Students from Oak Park, Pecan Park, Magnolia Park, and Upper Elementary schools walked with their parents, friends, and some teachers to school this morning.
The schools started this a couple of years ago with a club called the Ospreys, which helped organize the event.
The schools think it is a great way to promote health and wellness while encouraging younger students to start healthy habits.
Oak Park Elementary Principal Jennifer Pope tells News 25 she enjoys the chance to switch up her morning routine.  "It is a blessing, I stand out here every morning and greet my students, but it was different to be able to walk with them. I think it was even more exciting because I got to see a lot of my former students, some of the cheerleaders were former students and the upper elementary students were there and I got to see some parents and students I haven't seen in a while."
The Ocean Springs School District plans to do this every year and wants to see the crowd get bigger by having more parents and children involved.