For whom the bell rolls: Paul Revere chime returns home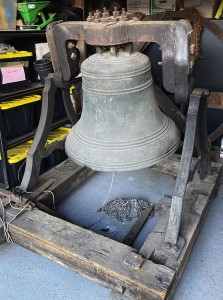 BOSTON (AP) — A bronze bell cast in 1834 in Paul Revere's Massachusetts foundry has come home — capping a nearly two-century, cross-country odyssey that saw it hauled by oxcart to churches in Ohio before languishing for decades in a California garage.
After a weeklong journey across the U.S., the historic bell was returned Friday to the site where it was created 188 years ago, said Kiley Nichols, a spokesperson for the Paul Revere Heritage Site in Canton, just south of Boston.
The museum said the 1,000-pound (453-kilogram) bell was made by the Revolutionary War patriot's son, Joseph Warren Revere, who took over his father's foundry in 1804.
In 1984, real estate agent Jeannene Shanks became the bell's accidental owner. She'd helped broker the sale of what once was First Baptist Church in Vermilion, Ohio, to a fitness center — but the gym didn't want the heavy bell, and Shanks didn't feel good about it being scrapped. She made a $1,000 donation to the church in exchange for the bell, which earlier had adorned the belfry of the First Presbyterian Church of Cleveland.
When Shanks and her husband, Robert, retired in Chino Hills, California, they hauled the bell with them.