Eclipse Day draws crowd to INFINITY Science Center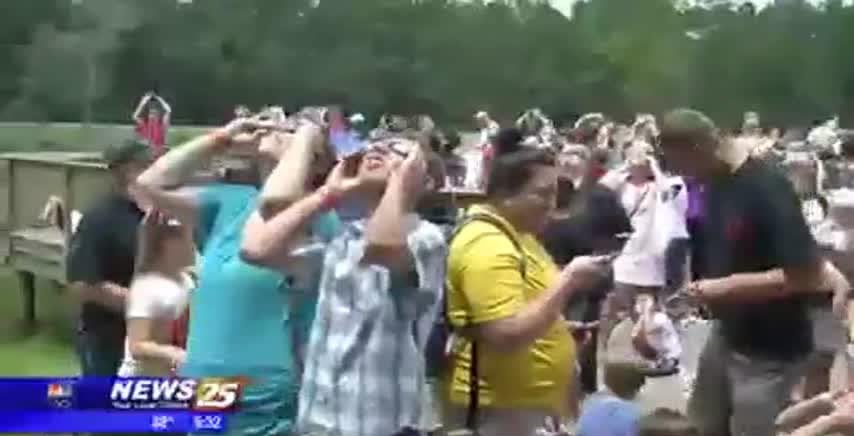 Thousands of people have traveled across the country for the best view of the 2017 solar eclipse. Many on our Coast and beyond caught a glimpse of the moment in history at the INFINITY Science Center in Hancock County.
The 2017 solar eclipse was the reason millions gazed at the sun Monday, a moment in history Kaylee Nicholson and her family did not want to miss. "It's really cool to see the moon move in front of the sun. It's exciting how it gets dark for about five minutes and it gets dark and you can see it change back."
Kaylee and her family came from Covington, Louisiana to watch the eclipse at the INFINITY Science Center in Hancock County. Louisiana Resident Angele Brannan said, "So excited to be out here and see the actual eclipse and that it's this close to home that we can come out from Louisiana to Mississippi and be a part of all these activities."
A day full of science activities made the science center a big hot spot to watch the eclipse. A sight so captivating that nine-year-old Greg Durel couldn't even stop watching for an interview. "I do see a little bit of black covering the top of it, covering the sun."
The solar eclipse peaked around 1:30 p.m., showcasing the first full solar eclipse of its kind in 38 years. Not only was this a chance for people all over the country to watch, it's also a chance for science to reach new heights in research. INFINITY Science Center Director John Wilson said, "Data is being collected all over the world, all over the path during this time to see what effect that has on animal behavior, crops, all sorts of things."
Officials say the big crowd that came out for the event speaks volumes for the future of science. "I'm really encouraged about young people getting excited about science and maybe this is the event that will totally change their lives," said Wilson.