Dr. Lake Garner hosts annual Pay Up for Pets event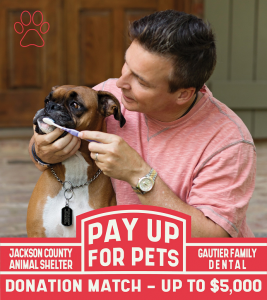 During the month of August 2021, Dr. Lake Garner and Gautier Family Dental will match all donations to the Jackson County Animal Shelter, up to $5,000.
Jackson County Animal Shelter, as do many other rescue organizations, see high number of animal intakes during the summer months.
To help with increased expenses and the desire to finish overdue projects, Dr. Garner urges the community to join him in donating to the dedicated no-kill, non-profit.
The campaign is in its fourth consecutive year, previously helping the Jackson County Animal Shelter exceed the goal.
Dr. Garner thanks the community for being so giving, and helping exceed the goals in the past years. Donations can be dropped off or mailed to the shelter.