Determined Gautier student rides bike to school in freezing temperatures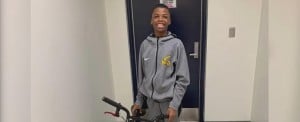 Gautier High School sent out a big Gator Chomp to one of its own this morning for his determination to get to school.
This is Jerrod, who woke up and realized he missed his bus, but instead of rolling back over and sleeping in or asking someone for a lift, he owned it.
Jerrod rode his bike almost five miles in the freezing temperatures to get to school.
Gautier secretaries met him at the door, got him warmed up, and then got him to class.