City of Ocean Springs Fireworks Display on Sunday, July 4th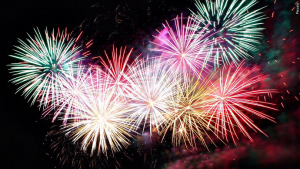 Ocean Springs, MS: The Fireworks Display for Independence Day will take place on Sunday, July 4, 2021 at approximately 8:30pm.
Fireworks will be launched from an area near Jackson Avenue and Front Beach Dr. For the safety of citizens there will be a restricted area stretching 300 feet in all directions from the launch site.
No pedestrian or boat traffic will be allowed within this area which will be barricaded and patrolled. Front Beach Drive will turn into one-way traffic, from the Yacht Club to Washington Avenue, at 2:00pm by the Ocean Springs Police Department.
There will be NO PARKING on the North side of Front Beach Drive or East Beach. Certain streets will be closed to thru traffic from approximately 2:00pm on Sunday, July 4, 2021 through approximately 10:00pm.
Police are scheduled to lift barricades at approximately 10:00pm to allow vendors to exit the area. As always, it is at police discretion whether to add, remove, or relocate barricades. "No Parking" violations will be strictly enforced.
The Following Roads will be Closed to thru traffic from approximately 5pm to 10pm:
Martin Avenue at Cleveland Avenue
Hillandale Avenue at McGinnis Avenue
Jackson Avenue at Ocean Avenue
Washington Avenue at Front Beach
La Fontaine at Dewey
There will be one-way traffic eastbound from the Yacht club to Washington Avenue