Charged with possession of a controlled substance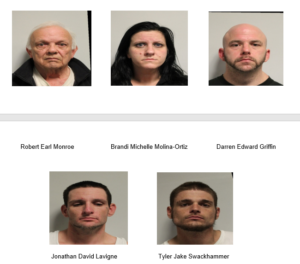 On Monday, February 06, 2023, at approximately 6:11 p.m., Biloxi Police Officers responded to the 900 Block of Cedar Lake Road in reference to a larceny complaint.
During the course of the investigation, officers received information that led them to the 800 Block of Cedar Lake Road.
Upon arriving in the area, contact was made with 76-year-old Robert Earl Monroe of Biloxi, 34 year old Brandi Michelle Molina-Ortiz of Biloxi, 32 year old Darren Edward Griffin of Gulfport, 30 year old Jonathan David Lavigne of Biloxi, and 24 Tyler Jake Swackhammer of Biloxi.
After being made aware of the larceny complaint, the stolen property was recovered.
While still on scene, officers were alerted to the possibility of there being narcotics present. A subsequent investigation led to a search warrant being obtained for the residence.
During the search, members of the Biloxi Police Department's Special Crimes Unit, along with Biloxi Patrol Officers, located and seized a felony amount of marijuana and a substance believed to be methamphetamine.
Monroe, Lavigne, Molina-Ortiz, Griffin, and Swackhammer were all charged with Possession of a Controlled Substance. The stolen property was returned to its owner. Darren Griffin was also charged with Petit Larceny.
Justice Court Judge Albert Fountain was made aware of the incident and issued a $25,000 bond for each person arrested. They were all later transported to the Harrison County Adult Detention Center.