Two girls killed in high-speed chase; officer charged with negligent homicide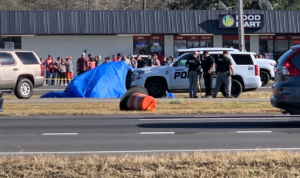 A high-speed pursuit of a stolen vehicle has left two girls dead and another teen in ICU.
The chase began in Baton Rouge and had crossed into Iberville Parish when Addis Police joined the effort. Officer David Cauthron of Addis was traveling over 80 mph on LA 1 when he struck a civilian's car. Witnesses say Cauthron failed to yield at the redlight where the collision occurred.
Brusly High School students Maggie Dunn, 17, and Caroline Gill, 16, were pronounced dead on the scene. Liam Dunn, 19, was transported to a nearly hospital with many injuries including a fracture skull. He remains in critical condition in the ICU, according to family members.
After reviewing body and dash camera footage, officials arrested Cauthron. He has been charged with two counts of negligent homicide and one count of negligent injury. His bond was set at $100,000. District Attorney Tony Clayton will present the case before a grand jury. "We have two children who died over this for absolutely no reason at all."
How to help
Organizations have teamed up to support the Gill and Dunn families' funerals and medical expenses. Sales benefiting the families as well as blood drives are scheduled for the coming weeks. Locals can support the efforts by visiting the events listed below (information provided by Unfiltered with Kiran).
Central Middle and Central High host a blood drive on Friday, Jan. 6. The OLOL blood bank will be set up in the CMS gym, with their bus in the CHS parking lot between 8 a.m. and 4 p.m.
MSA West Academy will be hosting a replacement blood drive on Jan. 19 from 8 a.m. to 4 p.m.
Burger Me in Brusly will be donating 10% of its sales on Monday, Jan. 9 and Tuesday, Jan. 10 to the Dunn/Martin & Gill families.
French Quarter Bar and Daiquiris in Port Allen will donate a portion of its sales on Jan. 9 and 10 to the Dunn/Gill families.
DC's Grill in Port Allen is donating a portion of its sales on Friday, Jan. 6 to the families.
Walk-On's Sports Bistreaux in Brusly and Fat Daddy's in Plaquemine will each donate 10 percent of sales on Thursday, Jan. 5.
Creation of an official GoFundMe fundraiser is in progress. We will update the story with that information when it is available.