Biloxi couple accused of using son to try to steal items from Walmart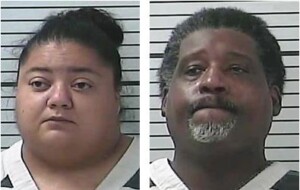 A Biloxi couple is in jail, accused of shoplifting and then using their child to try to get the stolen items out of the store.
Waveland Police arrested 35-year-old Khadja Alfred amd 47-year-old Larry Isaiah on Tuesday and charged both with shoplifting and directing a youth to commit a felony.
They were taken to the Hancock County jail. Bond was set at $7,500 each.
According to Chief Mike Prendergast, Alfred and Isaiah loaded a cart with almost $1,500 worth of household goods like paper towels, toilet paper and shampoo at the Waveland Walmart.
Then they had their 9-year-old son try to push the cart out of the store without paying for the items.
Prendergast said the store's loss prevention team detained the couple until officers arrived on scene and took over the investigation.
"Our loss prevention people in Waveland are good," Prendergast said.
The boy was released to the custody of his grandparents.