Bills' Hamlin in critical condition after collapse on field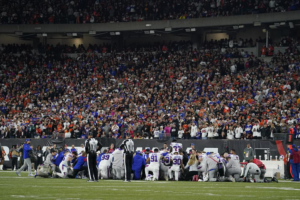 Bills' Hamlin in critical condition after collapse on field
By MITCH STACY
AP Sports Writer
CINCINNATI (AP) – Buffalo Bills safety Damar Hamlin collapsed on the field and was administered CPR before being driven away in an ambulance during Monday night's game against the Cincinnati Bengals.
The game was suspended after the injury. Hamlin collided with Bengals receiver Tee Higgins after a completion.
He got to his feet, appeared to adjust his face mask with his right hand, and then fell backward about three seconds later and lay motionless.
Hamlin was surrounded by stunned players from both teams, and when he was taken off the field 16 minutes later, the Bills gathered in prayer. He was driven to University of Cincinnati Medical Center.