Arrest made in Pascagoula shooting investigation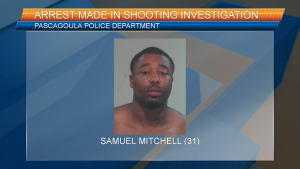 Officers responded to a McDonald's in Pascagoula following reports of a shooting this afternoon.
Police say it happened just after 3 p.m. near a McDonald's near Fulton Avenue and then at the section of Market Street and Jackson Avenue.
The suspect of both incidents went to a residence on Fulton Avenue, brandishing a firearm in front of the homeowner. The homeowner then fired their own gun, hitting the suspect's vehicle. The suspect then shot at a truck on Market Street, hitting the driver.
The driver was transported to a hospital in Mobile and was treated for non-life threatening injuries. The suspect then fled Pascagoula to Moss Point, where there was one more incident of the suspect brandishing his firearm.
Police arrested the suspect as 31-year-old Samuel Mitchell. At this time, it is not believed there is a connection between the suspect and the victims.
Mitchell is charged with aggravated assault. The investigation remains underway.