5 Louisiana men charged with vehicle burglaries in Waveland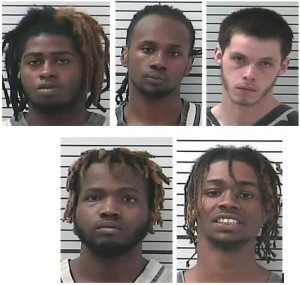 Five men from Louisiana are behind bars today after a Ring doorbell alerted a potential victim of a car burglary.
The suspects are 22-year-old Tyler Hartley of New Orleans, 20-year-old Caden Nix of Slidell, 19-year-old Thaddeus Thompson Jr. of Slidell, 21-year-old Eugene Wellington of Slidell and 19-year-old Tyre-Malek Young of Metairie.
Waveland Police say a call came in about 3:30 a.m. this morning. A resident of the Idlewood Subdivision said their Ring doorbell alerted him to someone moving around their vehicle.
Police sent out to the call arrested four suspects — and a fifth an hour later.
Chief Investigator Edward Hursey said three vehicles were burglarized at two different residences. He said there could be more victims.
The suspects were going from vehicle to vehicle, trying door handles. If the car was unlocked, the suspects took anything of value left inside.
Each of the suspects were charged with two counts of vehicle burglary and are being held at the Hancock County jail awaiting an initial appearance. No bond has been set.
If anyone finds that their vehicle has been burglarized, Hursey said they should call dispatch at 228-255-9191.